Lesedauer:
5
Minuten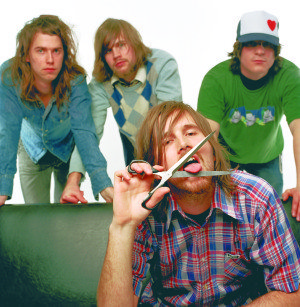 Wildwechsel: Nellie? Who the fuck is Nellie? Is she very nervous? Does she like your music?
Henrik Johnson : Quite frankly I have no idea, he or she is in all of us I guess…everybody's a little nervous at times. I hope she likes our music otherwise she's been lying to us all these years!?
Wildwechsel: Parents were very frightened about your photograph with the scissors and the tongue. They thought young teenage girls that like your music so much would do the same. How could you do that?
Henrik Johnson: I did it becuase I'm completley insane and everyone should beware of my wrath! Those parents are right…
Wildwechsel: What about yout tongues? Are they still whole?
Henrik Johnson: Yes, our tounges are still there. It's never as bad as it looks, a good metaphor for life.
Wildwechsel: The festival summer lies behind you. Is everything okay with you?
Henrik Johnson: This summer was good for us, we played some festivals but we were mainly working on finishing up our album and getting ready for the release. Hopefully next year will be our big festival summer.
Wildwechsel: Why do you come so often into the "deep south" – it's a long way from Sweden?!?!
Henrik Johnson: The further away from Sweden the better in my opinion. Swedish concert goers are many times very closed-minded and don't know how to have a good time. The "dirty south" is different, we always have a blast and that's why we always make time to come back.
Wildwechsel:How did you like the Wildwechsel Clubrock-Tour?
Henrik Johnson: It was great fun travelling around with the other bands, not only were they great musicians but also really nice people – we definitely made some new friends. The crowds were cool to, I think apart from one night the turnout was good.
Wildwechsel: What do you remember of our region?
Henrik Johnson: I remember having a few mad partys and I remember being stopped by the police for running a red light and then having to spend an entire afternoon at the police station arguing back and forth about our innocence. We had no idea but it turns out we did commit the crime after all :-)
Wildwechsel:Where does the beer taste better: In Germany or in Sweden? Is alcohol still so expensive in Sweden?
Henrik Johnson: Personally I'm not a big fan of "real" beer, I like it but I prefer mexican beer like Corona and Sol so I'm the wrong person to ask I'm
afraid. All beer tastes the best if it's enjoyed under the right circumstances. I will never drink a guiness… The taxes on alcohol are very high in Sweden but just recentley the politicians have started talking about lowering it. If this good or bad I don't know? Good I guess for those who can control their drinking, I don't know anybody like that though…


Wildwechsel: Which concert was your best?
Henrik Johnson: There are so many actually but we had allot of fun when we opened for The International Noise Conspiracy at SO36 in Berlin last year.

Wildwechsel: … and the worst?
Henrik Johnson: Even here there are so many different ones. Many times our equipment will break or my fingers start bleeding becuase I can't control myself – when both happen and there aren't any people in the audience it's not the most gradifying experience in the world.
Wildwechsel: Are there any musicians that showed you the way?
Henrik Johnson: I think it's important to have heroes in anything you do, somebody to watch and follow to help you on the way to finding your own expressions. In my case I've always valued the honesty of bands like Sonic Youth and Dinosaur Jr. The one hero we all have though is the great Neil Young, there is nobody better and sadly there never will be. He's truly an inspiration, he's always amazing whether he's playing acoustic or with ear bleeding distortion.
Wildwechsel: Which song of the charts in these days you like most?
Henrik Johnson: I'm not sure how the charts look these days but there is one song I hear allot right now that I like, I think it's Snoop Dog and Justin Timberlake singing together. I like Snoop Dog, he's raw and sexy – he's like a modern Marvin Gaye.
Wildwechsel: And which song is horror that you don't want to hear it any more?
Henrik Johnson: Don't really know. I'm not a big fan of The Black Eyed Peas though, I can tell you that…
Wildwechsel: Many people loaded down your free mp3s, the success was gigantic. Did you think before, that so many people what do it.
Henrik Johnson: At the time we had our own record label and no money for marketing and distribution so we decided to give it away for free and hopefully get people to come to our shows instead. It turned out to be a good idea, something we didn't anticipate at all so we're very happy about that. It's always fun when people show an interest in what you're doing.
Wildwechsel: Now the album is ready. Are you satisfied with the result?
Henrik Johnson: Like I said I can't believe we finally got it done. When we started recording it we had no idea what we were doing so at one point we didn't think we'd pull it off at all. I hate bands that are all cocky and say that they are the best in the world but I have to say…our album rocks! We're satisfied!
Wildwechsel: When do you come next to Germany?
Henrik Johnson: The album will be out in Europe on September 19 and after that we will be touring around quite a bit during the fall. We will be in Germany for a whole month as it looks right now, starting October 18. We'll be posting dates on our website shortly, I hope we will see you at the concerts so we can party together!
Wildwechsel: Which projects do you plan?
Henrik Johnson: First it's the album release of course. Then tours in Sweden and mainly Germany first. We're talking about a tour in countries like Austria, Switzerland, Holland and so on for early spring and then perhaps the UK before a summer of festivals around Europe.
Wildwechsel: Do you want to become great, great rock stars?? Or is it okay the way it works…
Henrik Johnson: Things are fine at the moment but we are in it for the long run without a doubt. Any band that says they're happy where they are is a liar. We want as many people as possible to enjoy our music and embrace it so yes – we want to become great rock stars! Is there a hand book?

Das Interview führten Claudia Henke, Sascha Nolte und Dr. Lothar Jahn